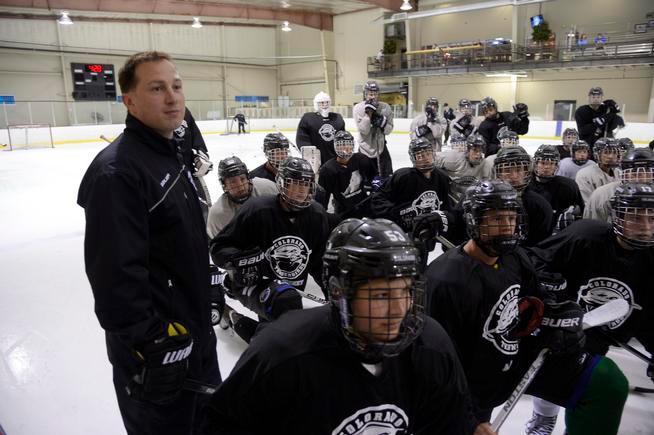 Coach Ricci Featured in the Denver Post
Angelo Ricci is a Chicago guy. You can hear it in his distinct Midwest accent, which isn't quite like the Bill Swerski ("da Bears") character from "Saturday Night Live," but somewhere in da ballpark.
While he still loves his Chicago teams and misses the authentic deep-dish pizza pies of his youth, Ricci has become something of an iconic figure in Colorado youth hockey circles. He is probably the most powerful man in the state — and throughout the Western half of the United States — in the development of young hockey players. And for good reason: Colorado's youth hockey teams are considered among the best in the nation. Promising local players used to leave the area to properly develop in the sport. Now, families from all over are moving here so their kids have the chance to play in the state's youth leagues. Specifically, for the chance to have their sons play for Ricci.
Ricci's Tier 1 under-16 AAA Colorado Thunderbirds club team recently lost in four overtimes, 2-1, in the national championship game to Team Wisconsin in Green Bay. His Thunderbirds won the national championship in 2010. In his 11 seasons of coaching at the Tier 1 level, he has posted a 549-114-44 record. Of the 20 players on his most recent Thunderbirds team, 16 already have been drafted by United States Hockey League teams and one, 16-year-old captain Alex Overhardt, already has his major junior rights owned by the Portland Winterhawks of the Western Hockey League.
Ricci, a former University of Denver high-scoring forward whose professional hockey dreams ended because of a severe wrist injury, reinvented himself as a youth hockey maven, one who has chosen to remain in Colorado despite numerous higher-paying job offers from all levels of the game, including the pros. "Why would I want to move away from this?" Ricci said with a panoramic sweep of the hand on a sunny morning last week at a Starbucks, right across the street from his alma mater and the mountains in the background. "I feel like I have a good situation here, personally and professionally. Yeah, there have been offers to go elsewhere, but my wife (Melanie) and I love living here and I just enjoy what I do."
Read full article here:
https://www.denverpost.com/2014/06/14/colorado-youth-hockey-in-good-hands-with-du-alum-at-the-helm/